Aries Ion Exchange Systems
Aries designs and manufactures Ion Exchange Systems for a variety of water treatment applications. These applications include industrial and wastewater treatment, boiler makeup, semiconductor, residential softening, metals removal, product purification, food processing, pharmaceutical and chemical/petrochemical processing.
Strong and Weak Acid Cation, Strong and Weak Base Anion and Mixed bed exchange resins are selected to provide the most cost effective system. Aries System design may include UF or RO systems for pre or post treatment to meet your end use requirements. For large applications, we offer a wide range of options from skid mounted systems to custom designed systems with complete Pre & Post Treatment. Our ability to customize the system to meet your specific need is the advantage of using Aries Ion Exchange Systems.
Ion Exchange System Applications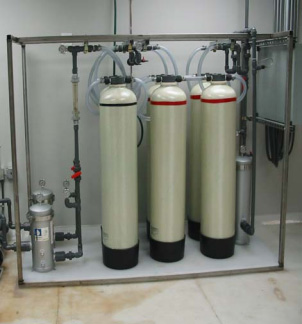 Ultra-pure Water Production
Arsenic Removal
Municipal Drinking Water
Recycling Wastewater
Process Rinsewater
Pharmaceutical Manufacturing
Semiconductor
Condensate Polishing
Softening
Demineralization
Electronics Manufacturing
Automotive
Electroplating
Beverage
Hemodialysis
Aries Ion Exchange Systems can be custom designed to meet specific end use requirements.
Aries Ion Exchange Systems Removal Capabilities
Heavy Metals
Calcium and Magnesium Hardness
Iron and Manganese
Dissolved Solids
Sodium
Silica
Alkalinity
Chlorides
Mineral Anions: Chlorides, Sulfates, Nitrates
Ammonia