Evaporator Systems
Aries designs, manufactures and distributes Evaporator Systems for a variety of wastewater treatment applications. These applications include all types of wastewater solutions ranging from mild mop waters generated from floor washers to corrosive metal finishing and etching wastewaters. Aries supplies two standard evaporator designs: The CorrProtec and RunDry Evaporators. In addition Aries can design custom evaporators for unique applications.
The CorrProtec Evaporation System is designed to efficiently evaporate waste waters and remove the settled solids buildup from the evaporator tank bottom. A submerged burner tube fires below the solution level providing 95%+ energy efficiency. The hot gases contact with the liquid creating instantaneous vapors. The combustion gasses rapidly mix the liquid for uniform heat distribution throughout the vessel. The burner tube orifices are positioned below 180 deg. allowing the tube to be continuously self purging. The CorrProtec Evaporators unique construction is ideal for aggressive corrosive waste solutions.
The RunDry Evaporator is a run dry system that can reduce your wastewater to a dry cake. It is ideal for situations where a high solids waste is desired. The RunDry Evaporator can be manufactured with specifically designed alloys for most aggressive and corrosive wastewater solutions.
The advantage of using Aries Evaporator Systems is that they can be custom designed for your unique applications. Contact us to discuss your needs.
Evaporator System Applications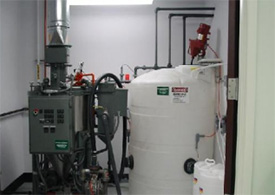 Metal Finishing
Circuit Board Manufacturing
Automotive
Chemical Manufacturing
Process Rinsewaters
Pharmaceutical Manufacturing
Semiconductor
Electronics Manufacturing
Aries Evaporator Systems can be custom designed to meet specific end use requirements.
Aries Evaporator System Features
High and low level safety shut down capabilities
Specially designed materials to meet customer specifications
PLC controls
Skid mounted designs for easy installation
High temperature shut down controls
Specially designed tanks for easy cleanout
Simplified controls for easy use
Comprehensive limited warranty
Complete system automation available
1-200 gallon per hour systems
Pretreatment options available: membrane, activated carbon, filters
Post treatment options available: decant systems, filter presses