210 gpm MicroFilter Softening System For Water Recycling
Posted in General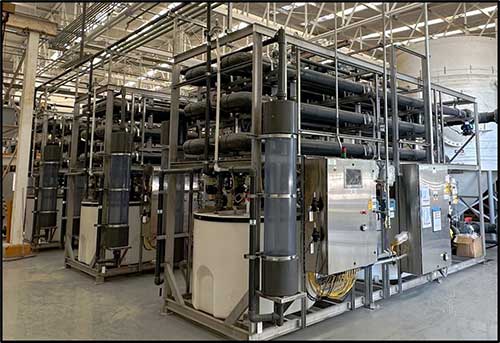 Aries recently designed, built and started up a 210 gpm MicroFilter (MF) system for water recycling softening at a major Mexican manufacturing plant. The microfilter system softens concentrate (reject) from a pure water Reverse Osmosis (RO) system. The MF permeate (softened water) is RO'd again to further increase the RO's recovery rate thus allowing the plant to minimize its water consumption. The pure water (RO water quality) is used in the plant for a variety of applications.
The MicroFilter (MF) system has (3) skids, each with (2) trains of MF modules. The MF system operates at 210 GPM with (4) trains (2 skids) on-line and a 300 GFD flux rate. The filter modules are PVDF crossflow tubular membranes designed for high flux. The membrane's PVDF construction provides excellent chemical resistance, so strong chemicals can be used for effective cleaning. Each of the 6 trains has a 30 HP pump which sends water though 12-modules piped in series. The MF system is PLC controlled with each of the 3 MF skids having a HMI (LCP-MF-1, -2, -3) where operating data is displayed. The automated cleaning process is managed using the HMI.
The MF system has six parallel trains to provide maximum flexibility and redundancy. Typical operation is to have four trains on while two trains are being cleaned and in standby mode. A pure water RO system's concentrate (reject) is pretreated ahead of the MF to soften (precipitate calcium and magnesium based water hardness) for removal. The precipitated water hardness is rejected by the MF, while the softened (low hardness) permeate is redirected to the pure water RO. This softening process allows the RO concentrate to be recycled to produce high quality water (RO water) for production processes, thus reducing the plant's overall water consumption.