Magnesium Hydroxide for Anaerobic Digester
Ask Our Experts
Have a question? Need more information? Our experts can help. Call (315) 346-1489 or send us your question.
A recycled papermill treats approximately 1.4 million gallons of process wastewater per day. The wastewater has high BOD levels. Wastewater is processed utilizing an anaerobic digester followed by an aerobic activated sludge system. The activated sludge system is clarified with a dissolved air flotation clarifier prior to discharge. Urea and phosphoric acid are added to the system to provide nitrogen and phosphorus as nutrients. Caustic Soda was historically used to control pH and alkalinity in the system.
The plant had been using 50% Caustic Soda for years as an alkalinity source and for pH control. Aries Chemical provided chemical storage and feed & control equipment for a four month long full scale trial. The plant was converted to Aries Chemical Magnesium Hydroxide which provided the following benefits to their wastewater treatment operation:
Significantly reduced chemical cost for alkalinity and pH control. Only 800 gallons per day of Aries Chemical's Magnesium Hydroxide was required to replace 1,300 gallons per day of 50% caustic soda.
Improved pH control and Stability throughout the plant.
Improved Chemical handling safety. Aries Chemical's Magnesium Hydroxide is a nonhazardous product as compared to Caustic Soda which is a hazardous chemical. Caustic Soda requires special personnel safety handling equipment. Moreover, Caustic Soda requires Sara 313 reporting.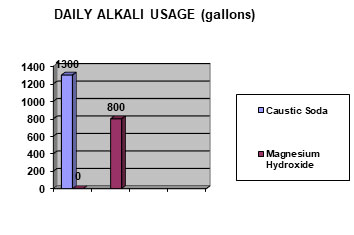 For further information on Aries's solutions for the paper and pulp industry, contact your Aries Chemical Representative or the Beaver Falls office at (315) 346-1489. Also view a printable version of this Magnesium Hydroxide for Anaerobic Digester Case Study.