Aries Chemical Helps Hospital Solve Boiler Water Treatment Problems
Ask Our Experts
Have a question? Need more information? Our experts can help. Call (315) 346-1489 or send us your question.
A hospital's annual boiler inspection showed a worsening scale problem on its boiler tubes. The scale was a safety and energy concern. Boiler tube scale can cause boiler tube failure. Moreover, boiler tube scale reduces heat transfer thus increases fuel demand and energy costs. See the below table showing the cost of boiler scale.
The hospital contacted Aries Chemical to review the boiler water chemical treatment program. Aries conducted a full audit that included a physical survey, water and scale analysis. Aries audit found several issues that needed to be addressed. Those issues included a defective water softener, an inadequate treatment program and poor oversite of the boiler water treatment program.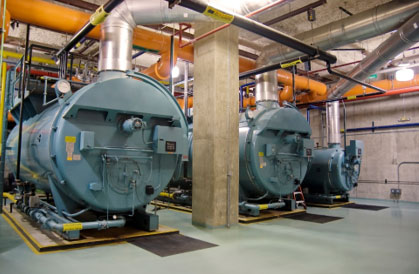 Aries made several recommendations to address the hospital's boiler water treatment problems.
A new softener control head as a low-cost solution to the softener problem
A best in class Walchem conductivity controller to provide automatic boiler water blow-down for conductivity control
An improved antiscalant and on-line scale removal program
An on-site service program provided by an Aries Technician to oversee the water treatment program
The hospital implemented Aries recommendations. The new softener head produced consistent
softened water for boiler make up. Aries' recommended on-line scale clean-up program removed
the boiler tube scale without the need for an expensive off-line cleaning. Finally, Aries' on-site
service program provided the oversite that allowed the Hospital to maintain good boiler water
treatment quality. Aries' service program allowed the Hospital's overloaded maintenance staff to
focus on other pressing demands.
Effects of Scale Deposits in Boilers
Fuel Cost Increases Due to Boiler Scale
For further information on Aries's solutions for the healthcare industry, contact your Aries Chemical Representative or the Beaver Falls office at (315) 346-1489. Also view a printable version of this Boiler Water Treatment Solution For Hospital case study.