Aries Dispersant Improves Coating Quality
Ask Our Experts
Have a question? Need more information? Our experts can help. Call (315) 346-1489 or send us your question.
A large integrated pulp and paper mill was experiencing coating defects, rejects and increased downtime due to coating rheology problems. The mill produces machine coated C1S and C2S paper. Aries was asked to help improve product quality.
An Aries plant audit found that high coating viscosity appeared to be a major problem source. Coating samples were sent to Aries for a dispersant study. The dispersant study found that a new Aries dispersant chemistry, Aries 5740, reduced viscosity significantly at much lower addition rates than industry standard. Testing was completed on typical pigmented web offset coating. Aries 5740 provided superior viscosity reduction at lower addition rate when compared to competitive industry standard coating dispersants.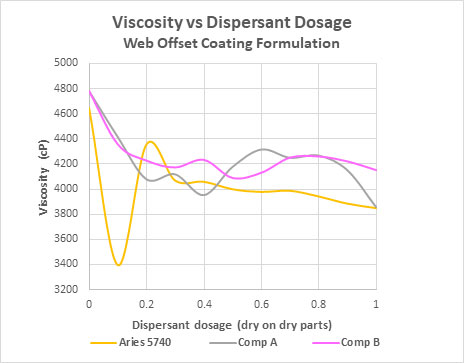 Aries 5740 Dispersant performance on machine matched the laboratory testing resulting in cleaner running coater heads. Improved coated sheet quality and longer intervals between coater head cleaning was realized.
Typically, when coating was held for unscheduled downtime, the viscosity would climb to levels that resulted in unacceptable coater runnability and/or wasted coating. With the Aries 5740 dispersant coating viscosity remained stable allowing the mill to use the coating when resuming production without coater operational problems, defects or having to waste costly coatings.
Aries 5740 Benefits
Lower application rates and costs
Fewer coating defects
Cleaner coating heads
Improved coating storage shelf life
For further information on Aries's solutions for the paper and pulp industry, particularly when it comes to improving machine downtime, contact your Aries Chemical Representative or the Beaver Falls office at (315) 346-1489. Also view a printable version of this Aries Dispersant Improves Coating Quality case study.